Darkened Soul
Coming April 24th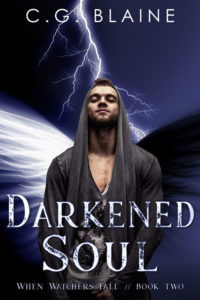 Keep my Nephilim alive. Earn back my light. Finally go home.
As a Watcher, nothing else should matter. Nothing else has mattered. Until her.
She dug her way in without any invitation. Now, she haunts my dreams and makes me lose focus. The one mortal off-limits, and regardless of how hard I try, I can't stay away. And the more untouchable she becomes, the more I want her.
At first, she's a distraction that could cost me the eternity I've worked so hard to protect. But then she becomes a danger beyond anything I've ever imagined. When it comes to her, it's not only my immortality hanging in the balance. This woman threatens my soul's very existence.
Our story was always meant to be messy—because, at the end, one of us has to die.